Welcome to Sadie Lady the Official Website for young Model & Actress Sadhana Joule Som. Here you'll find the latest news, updates & images on this talented little girl. You can view some of her work in the Gallery. If you have any question's feel free to Email the Webmaster.


NEWS & UPDATES
| | |
| --- | --- |
| 23 Jan 2015 | Natalie Warr Photography! |
I have a very fun update to share with everyone today as there is a part two to Sadie and Zack's holiday photoshoot with Natalie Warr! They had a great time down at the beach for this set of images, and it made a wonderful backdrop for the photos as the kids ran in the sand, and posed for some very nice sibling shots by the rocks and water. They really enjoyed using the letter props that spelled out 'Joy', tossing the letters up in the air as they jumped. Mocha also got in for some more photos with Sadie as the two sat in the sand posing for pictures, which came out wonderfully.





Zack has some solo shots from this part of the shoot as well which can be found in his section of the gallery. He really liked taking some photos with Mocha, the two are the best of buddies, and one of his favorite parts of the whole shoot was jumping in the air along the shore as Natalie captured some action shots. Thank-you Natalie for a fantastic set of new Sadie and Zack images!





Posted by: Lisa | comments 0
| | |
| --- | --- |
| 16 Jan 2015 | Peek, Aren't You Curious |
2014 was a fantastic year for Sadie and she closed it out with her shoot for Peek, Aren't You Curious surfacing! She was seen on the company website as well as their social media accounts, and I am happy to say the images can now be viewed in the gallery. Sadie had a great time working with friends, and the clothes she got to wear are awesome with all the different patterns, text, and fun colors. Several of her images were used to head different sections of the website, and along with the shoot images I also have some outtakes to share too! I hope everyone has as much fun looking at the new photos as Sadie had shooting them, and thank-you to everyone at Peek, Aren't You Curious for a great time!


Posted by: Lisa | comments 0
| | |
| --- | --- |
| 09 Jan 2015 | Birthday Project!! |
In just a few short weeks Sadie and Zack will be turning nine years old! They already cannot wait for their birthday to be here so they can celebrate with family and friends, and what better way to make it extra special for them than with a birthday project! This is where you can send in messages, graphics, and videos for them to see on their birthday. They love seeing everything you do to support them throughout the year, and hopefully many of you will send in to be a part of this for their birthday. Make sure to Click Here to be taken to the birthday project form and the submission deadline is January 27th!
Posted by: Lisa | comments 0
| | |
| --- | --- |
| 01 Jan 2015 | Happy New Year! |
2014 was such a great year! New memories, new bookings, and a whole lot of fun. 2015 is now upon us, full of new opportunities, excitement, and we all cannot wait to see what the year has in store for Sadie, Zack, and Nathan! Hopefully all of you are kicking off the new year with a great start and it is one full of joy and happiness. Happy 2015!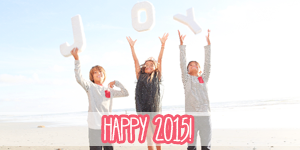 Posted by: Lisa | comments 0
| | |
| --- | --- |
| 24 Dec 2014 | Merry Christmas! |
Sadie and Zack are so happy that there is just hours left until it's time to head to bed and fall asleep so that Santa will arrive! They are so excited for Christmas...presents, decorations, treats, and of course quality time with their family. It is one of the most magical times of year, and they cannot wait to enjoy all the holiday has to offer this year. Sadie and Zack would like to wish everyone celebrating a very Merry Christmas, and hope that all of you are having a great holiday season, all the best in 2015!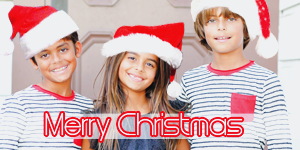 Posted by: Lisa | comments 0