Welcome to Sadie Lady the Official Website for young Model & Actress Sadhana Joule Som. Here you'll find the latest news, updates & images on this talented little girl. You can view some of her work in the Gallery. If you have any question's feel free to Email the Webmaster.


NEWS & UPDATES
| | |
| --- | --- |
| 30 May 2013 | Talented Models-Kids Magazine |
Talented Models-Kids Magazine released their first issue earlier this year and Sadie was happy to be a part of it! She shot with the wonderful Mindy Tanimoto for a fun ranch themed shoot and several of her photos appeared in a multi-page photo spread. I absolutely love the photos of Sadie rockin' her cowgirl hat with the pigtails, and it is always nice seeing photos of her and her friends getting to shoot together. With a thank-you to Mindy we have the shoot images as well! Make sure to check them out in the gallery.





Not only was Sadie a part of one of the featured shoots, she, along with Zack and Nathan, also did an interview! The article has quotes from Sadie about filming her commercial for Target while Zack talks about shooting Access Hollywood Live! Copies of the pages for the interview have been added to the gallery, and we also encourage everyone to check out the full magazine here.

In addition to the photos from the magazine, I also have some fantastic behind the scenes images to share with everyone! Sadie loved getting to play with her friends between parts of the shoot, the haystacks were so much fun to climb and jump around on. She especially loved the tire swing, and could probably stay there all day if she could! Thank-you to Mindy and the Talented Models-Kids Magazine team for such an exciting shoot!



Posted by: Lisa | comments 0
| | |
| --- | --- |
| 16 May 2013 | Shannon Sewell Photography |
I have a very fun update today coming to us all the way from Oregon! Sadie traveled there recently to do a shoot for Matilda Jane, and once they were done Shannon Sewell who was the fantastic photographer from the shoot had Sadie do another fun photoshoot with her! Disco balls, top hats, crowns, Sadie loved all the fun props she got to play with, and the photos are fabulous! I am so excited to have the full shoot to share with everyone, and I know you are going to love these photos just as much as Sadie enjoyed taking them. Shannon did a piece on her blog about the photoshoot where she shared some photos, talked about the weekend, and had some wonderful things about to say about Sadie:
Two of our models flew up from L.A. to be with us so before they flew off Monday we headed out for quick little playdate with the camera. Both of these little girls were so full of giggles and sweetness... such a delight to spend three days with them (& now just another excuse to head back to Cali sooner)
I hope everyone checks out the new photos, I especially love the photos of Sadie with the disco ball, and can't help but smile seeing Sadie full of giggles. Thank-you Shannon for such a fun weekend, and Sadie really hopes you make it back out to Cali soon!





What a whirlwind week it has been for Miss Sadie! She has booked THREE jobs in the past week and is going to be quite the busy girl! At the end of the month she will be shooting again with Roxy, she loved working with them not too long ago and can't wait to see what's in store for this shoot. She will also be shooting next year's swimwear lines for Raisins and Hula Star! Congratulations on your bookings Sadie!!
Posted by: Lisa | comments 0
| | |
| --- | --- |
| 09 May 2013 | The Body Politic Fashion Show - Who's Little? |
Last year Sadie had the fantastic opportunity to walk the runway at The Body Politic Fashion Show! Showing off the latest fashions from Who's Little? it was a wonderful night with several of her friends. Sadie looked gorgeous in the pink dress that she wore on the runway, smiling as all eyes were on her. New photos from the day have just surfaced and with a thank-you to Who's Little? they have been added to the gallery. I love seeing Sadie and her friends so excited behind the scenes, and such fabulous photos of Sadie on the runway, make sure to check them out!

Posted by: Lisa | comments 0
You have all been anxious to see what the update is that I was hinting about yesterday and I am very excited to say that it is about Sadie's film Echoes! It is being screened tonight at the Senior Film Showcase hosted by California State University at the Academy of Television Arts and Sciences, which is amazing news for Sadie, the cast, and everyone involved in the production. The news doesn't stop there either as not only is tonight the screening, but I also have a copy of Sadie's part! The clip can now be viewed below or in our media section and Sadie did such a fantastic job as Young Misol. I love the close up shots we get of her, and the end of her walking away on the beach really pulls at your emotions. It was also great seeing her name in the credits for the trailer, a very big moment for Sadie! Unfortunately she will not be able to attend the screening tonight, but we hope everyone who attends has a wonderful time and enjoys the film as much as she loved filming it. Way to go on your first film Sadie, we are all so proud of you!



Not only do we have Sadie's scene today for everyone to see, we also have some fabulous behind the scenes photos! Sadie loved working with everyone on set, especially her co-stars who made her feel so comfortable while filming together. She also took in all the fun of the beach between takes, playing in the sand as the waves crashed up along the shore. All of the new photos have been added to the gallery, make sure to check them out, and thank-you to everyone involved in the production of Echoes for this amazing opportunity!






That's not all! I also have some booking news for Miss Sadie! This weekend she is off to Oregon to shoot with Shannon Sewell for Matilda Jane!
Posted by: Lisa | comments 0
Exciting news! Sadie's short film Echoes is close to being released! She had an amazing time filming the role of Young Misol, and you can see her in the brand new trailer that has just surfaced. She is shown playing on the beach at 0:24 and I love the photo that is also shown of her in the trailer. I can't wait to see her part when the film becomes available!


Make sure to come back to Sadie Lady tomorrow as I have a fantastic update to share with everyone! It's something that Sadie is very excited for all of you to see, and you definitely won't want to miss it!
Posted by: Lisa | comments 0
| | |
| --- | --- |
| 17 Apr 2013 | LA Style Fashion Week |
I am SO excited about the update we have for everyone today!!!! Sadie recently had the amazing opportunity to walk the runway at LA Style Fashion Week!! Booking shows for both es + es a designer from New York as well as Frankie & Sue. The show was held in the evening at a beautiful location in downtown LA called La Vibiana. Sadie loved getting to lead the Frankie & Sue show holding a big flag waving it down the very long runway while the audience cheered her on. Looks like it was such a fun evening and Sadie definitely rocked the runway!! The bohemian style outfit she wore was so cute and colorful on our little Sadie and she looks so pretty in the es + es high fashion dress and black jacket too. Due to the extensive press coverage of this event we are lucky enough to have a ton of fabulous photos to share of Sadie walking the runway, make sure you check them out below!! With a big thank you to Nicole Benitez, EMG Photography, Jack Flemming, David Jlevin, LaLuzArtista Photography, Ralph Logan, Nhan Nguyen, Party By 5, all the photos have been added to the gallery. We also, thanks to Runway TV , have the live videos of both shows which you'll definitely want to check out as well in the media section!!







Along with all the professional footage we have of this event, we also have some adorable behind the scenes photos of Sadie with her friends back stage, during the rehearsal as well as hair & makeup time. There are also a few shots of our little Sadie being interviewed after the show by a Spanish T.V. station!! All the pictures have been added to the gallery for you to see, enjoy!!!




Posted by: Lisa | comments 0
| | |
| --- | --- |
| 04 Apr 2013 | Fun With Christa Renee! |
It is always a wonderful experience getting to work with photographer Christa Renee. She has all kinds of creative ideas to try out and Sadie loves helping to make her visions come alive. Recently she did an amazing shoot with Christa for Babiekins Magazine which we'll get to see soon! Afterwards Sadie and her friend helped Christa with a second fun shoot where they got to be rockstars. Not only did they enjoy posing for Christa's camera, the girls also took some fun behind the scenes photos as well. The Babiekins Magazine shoot is so exciting and Sadie cannot wait for you all to get a chance to see it!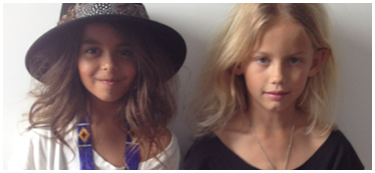 Sadie has some booking news! She gets to go to Big Bear Mountain for a Roxy shoot, so much fun! As well, Sadie, Zack, and Nathan now have a Official YouTube channel! Come watch some videos of their work, and don't forget to subscribe! You can access the channel by clicking here.
Posted by: Lisa | comments 0