Welcome to Sadie Lady the Official Website for young Model & Actress Sadhana Joule Som. Here you'll find the latest news, updates & images on this talented little girl. You can view some of her work in the Gallery. If you have any question's feel free to Email the Webmaster.


NEWS & UPDATES
| | |
| --- | --- |
| 12 Feb 2016 | Alivia Simone |
It is always fun to see yourself featured in a catalog, but it is an even better feeling seeing yourself on the cover, and that is what Sadie got to see when her Alivia Simone shoot surfaced! She can be seen on multiple pages inside catalog for the spring/summer collection and what a fantastic shot of her having fun with her friend on the cover. Sadie's images have also been used on the company's social media accounts, with additional images popping up such as her in a group shot along the ballet barre, and a fun photo of her in her pink dress using the barre and looking at the camera. All of the images came out fabulously and Sadie loved each of the outfits she got to model.


Sadie had such a great time shooting for Alivia Simone, there is always a lot of fun to be had on and off set when you're working with your friends. She was happy to get to do some group shots with them, and also loved spending time with the hair and make up team who had some pretty cool ideas for how to do her hair for the shoot. I especially love the images of Sadie and her friend Sade posing together on the couch, it's great to see Sadie with one of her model friends she's known since she was really little as they get to work together, and several fun behind the scenes images can be found in the gallery. What a fantastic shoot, and I know you all are just as excited as Sadie is about these new photos!


Posted by: Lisa | comments 0
| | |
| --- | --- |
| 05 Feb 2016 | Meet Me At A Funeral |
I hope everyone is ready for very fun update today as Sadie attended the premiere for her movie Meet Me At A Funeral recently! She plays the role of Josie, a terminally ill young girl who finds herself at the bedside of another patient, whose life she ends up changing for the better. Sadie was so excited to go with her parents, share in this moment with them as she saw herself on the big screen for the first time. Nothing can even begin to describe that feeling of watching your work in a theater and Sadie had the time of her life. She enjoyed reuniting with her co-star Zoe Kim who also is the writer of the film, and it was so awesome getting to sign a movie poster with everyone else who was involved in the film. Images from the premiere have just been added to the gallery and you can keep up with the film's screening schedule at various film festivals here. What an amazing experience and we are all so proud of you Sadie!
Posted by: Lisa | comments 0
| | |
| --- | --- |
| 30 Jan 2016 | Happy Birthday!! |
It's a very exciting and busy day today in the Som household as there is a big birthday to celebrate today, Sadie and Zack are turning ten years old! That's right, you read this right, Sadie and Zack aren't so little anymore and have officially entered the world of double digits. It's pretty amazing how fast time flies by as they were just three years old dressed up in their Mickey and Minnie costumes when Sadie Lady opened seven years ago as of yesterday, and they've grown up right before our eyes. Now they are both looking forward to today, enjoying one of the best days of the year and ready to see all that it has in store.

Sadie, I hope you have a fabulous birthday today. You have been counting down the days, and now it is time to enjoy all today has to offer. Being ten is so exciting, a new milestone you have reached and now you get to see what all the hype is about and enjoy it for yourself. It all begins with the traditions of your special day, cake and presents are definitely one of the best parts, and I'm sure you're going to have a lot of fun new memories by the end of the day. I hope all your wishes come true and that today is one of the best birthday's ever, Happy Birthday Sadie!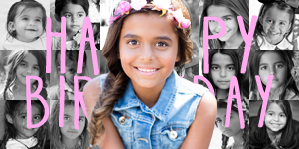 Zack, I hope your birthday is everything you hoped it would be today and more as you celebrate with your family and friends. Everyone wants to make this big occassion a special day for you, full of adventure and activities that will make the fun keep going from morning til night. Being ten years old is a big deal and you are going to love all that the double digit world has to offer, it's going to be a pretty exciting age! Happy Birthday Zack!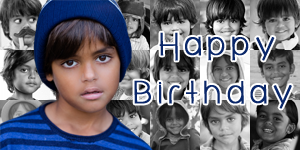 Posted by: Lisa | comments 0
| | |
| --- | --- |
| 23 Jan 2016 | Meet Me At A Funeral |
I have some exciting news to share, Sadie's film Meet Me At A Funeral has begun making its rounds in the film festival circuit! It is an official selection at the Asians on Film festival on March 12th in Los Angeles, and it is an official selection at the North Hollywood Cinefest which runs March 18th-24th. This is very good news for everyone involved in the film, and if you are in the area what a great chance to attend a film festival and watch Sadie's movie. You can also keep up to date on the film's Facebook page for more information and announcements on festivals the film will be screened at. Sadie cannot wait to see it too on the big screen and is very excited to be attending the premiere this weekend! What an incredible experience it is going to be for her and way to go Sadie I am so happy for you!
Posted by: Lisa | comments 0
| | |
| --- | --- |
| 24 Dec 2015 | Merry Christmas! |
Sadie and Zack always love the holidays. From the decorations and fun leading up to the big day to the time with family and magic of the holiday. They have been having an incredible Christmas this year, full of family and new memories and traditions, and cannot wait to continue the celebrations with the holiday now here. Sadie and Zack would like to wish everyone celebrating a very Merry Christmas and may everyone have a holiday season full of love and happiness.
Posted by: Lisa | comments 0