Welcome to Sadie Lady the Official Website for young Model & Actress Sadhana Joule Som. Here you'll find the latest news, updates & images on this talented little girl. You can view some of her work in the Gallery. If you have any question's feel free to Email the Webmaster.


NEWS & UPDATES
| | |
| --- | --- |
| 01 Nov 2013 | Talented-Models Kids Magazine! |
Issue three of Talented Models-Kids Magazine is now here! Sadie did a really fun shoot for the issue wearing one of her favorite lines, Who's Little? Working with the amazing Tammie Jane it was a wonderful day down at the docks and the weather was absolutely perfect for the shoot. With a big thank-you to Tammie I now have the shoot images to share with everyone! Sadie loved shooting on the boat, so much to explore, and I especially love the shots of her pretending to steer the boat and looking through the telescope. Tammie had such wonderful words to say about Sadie at the shoot saying:
She is so amazing at following directions! I got my shots of her right away.I would LOVE to use her again in the future where I can focus more on her! She is adorable!!!
Sadie loved working with Tammie too and really hopes she'll get to shoot with her again in the near future! Make sure to check out the new images in the gallery!





Posted by: Lisa | comments 0
| | |
| --- | --- |
| 31 Oct 2013 | Happy Halloween!! |
Whether you're looking for a trick or a treat tonight I know you are all going to love this Halloween treat I have for you! Sadie and Zack went to a really exciting Halloween party this past weekend, dressing up as an Indian Princess and a 'Zack O' Lantern' they had a blast with their friends, getting candy, and more. There was a photo booth there, and before they knew it they were posing for all kinds of fun images. With a thank-you to Laura Schmidt we have copies of their photos which capture all of the Halloween party excitement. I just love their costumes, Sadie makes a beautiful Indian princess and Zack totally rocks his costume! I hope everyone has a fantastic night tonight, Happy Halloween!


Posted by: Lisa | comments 0
It's time to dive into a little Friday fun with Roxy! Sadie continues to have images surface on the company website as they bring in the new fall outfits, and work on selling off the last batch of summer clothing in stock. She got to model several fun dresses, some warm comfy sweaters and more! I have just added several new Roxy images to the gallery, Sadie loves working for the company and we should be seeing even more exciting photos surface in the coming weeks!




Sadie has some booking news to share! She'll be shooting for Roxy tomorrow, she can't wait to get to set!
Posted by: Lisa | comments 0
I have such a great update to share with everyone today, and I hope you're all ready to smile because these photos will have you grinning from ear to ear! Both Sadie and Zack shot for the fall/winter line for Joah Love and it has just been released. With a big thank-you to the company, I have added all the fun and exciting new photos to the gallery. Sadie had a blast trying on the different outfits, and I love the laughs the photographer captured in the moments of the shoot. Zack especially enjoyed working with all the props from footballs to party banners, and you can see just how much fun both of them were having on set. I especially love the images of Zach pulling the banner and sitting on the football, and the ones of Sadie playing with the clock and making the shape of a heart with her hands, so sweet! Make sure to take a look and let us know in the guestbook which are your favorites!




Posted by: Lisa | comments 0
| | |
| --- | --- |
| 27 Sep 2013 | Matilda Jane! |
Matilda Jane is the wonderful gift that keeps on giving! Last month the Paint By Numbers line Sadie shot in Oregon was released, she appeared on their website and all over their social media, it was so exciting! Now, with a big thank-you to the amazing Shannon Sewell I have some really fun additional images from the shoot to share with everyone! The group shots came out fabulously, and Sadie really enjoyed getting to use musical instruments as props, letting her creativity flow to the different beats as the camera snapped away. The bright and vibrant colors really pop off the images and Sadie loved all of the outfits she got to wear. Thank-you to Shannon everyone at Matilda Jane for such an exciting shoot!




If you haven't already, make sure to stop by Sadie's page on IMDB and give it a like!
Posted by: Lisa | comments 0
| | |
| --- | --- |
| 20 Sep 2013 | Jakks Pacific! |
What better way to kick off the weekend then with a fun update here at Sadie Lady! One of Sadie's favorite magical characters are fairies, she loves the Rainbow Magic book series, and when she got to shoot for Jakk's Pacific and the Disney Fairies line earlier this year she was so excited! She got to dress up in Periwinkle's Pixie Party Dress, and shoot the product packaging for several different toys. Sadie can currently be seen on the Target website, the tag of the dress, and the image came out fabulously! She loved getting to be a real life fairy! The next time you are at your local Target or any other store with a toy department, make sure to take a look for Sadie!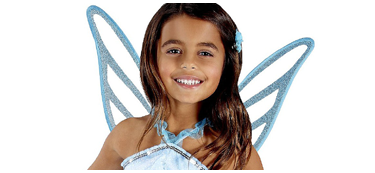 Posted by: Lisa | comments 0
Get ready for some fun with Roxy as Sadie's first set of images have begun to surface!! A couple of weeks ago she went to their studio to model some of their new fall apparel for the company website, and now she can be seen online! She got to wear some fabulous outfits, had a lot of fun working with the crew, and the photographer was wonderful to shoot with. This is our first of hopefully many Roxy updates over the coming months, and we are going to be in for a ton of fantastic new Sadie images!




Roxy loves Sadie so much that she was also recently invited to their annual sales meeting to model of of their new clothing items in front of the top members of the company. She and her new friends took to the stage showing off some fun new outfits, and Sadie was full of smiles as the crowd looked on. I have two videos of Sadie at the meeting, which can be viewed below as well as on her YouTube channel. Thank-you to the Roxy team for this exciting experience!






Posted by: Lisa | comments 0