Welcome to Sadie Lady the Official Website for young Model & Actress Sadhana Joule Som. Here you'll find the latest news, updates & images on this talented little girl. You can view some of her work in the Gallery. If you have any question's feel free to Email the Webmaster.


NEWS & UPDATES
| | |
| --- | --- |
| 30 Jan 2012 | Happy 6th Birthday Sadie and Zack!!! |
The BIG day has arrived! The excitement and anxiousness as Sadie and Zack counted down the days is finally at the big moment, January 30th is here and that means it is Sadie and Zack's 6th Birthday! As Sadie and Zack wake up today they will be greeted by their family with hugs and smiles and lots of big birthday wishes! Lots of fun activities to do with family and friends as many laughs are shared and memories created. Cannot forget that nice big yummy cake and those really cool presents. Birthday's are so much fun and its time to celebrate here at Sadie Lady too!You all have been so amazing, working hard this month to help make Sadie and Zack's sixth birthday a very special one by submitting messages, graphics and videos to their birthday project. Everything is all ready for them to see on this special day and I am very proud to present to Sadie and Zack this big huge wonderful gift from their fans. Happy Birthday Sadie and Zack, with much love from your fans, this is their gift to you:

Sadie and Zack's 6th Birthday Project

Make sure to get all comfy cozy as you click this link with your family, you've got so many exciting messages to read, amazing graphics to view and fantastic videos to watch! I know you're going to love this!Sadie, I hope you enjoy you're birthday with Zack and the rest of your family as you celebrate today. You continue each and every day to reach for the stars and share that gorgeous smile with everyone you meet. I hope that all your wishes come true today and everyday. You are such an amazing and bright little girl and I am so happy to see you enjoying each and every opportunity that comes your way. I hope today is very special for you, Happy Birthday!!! To celebrate, the wonderful Sarah has made this fantastic banner wishing you a Happy Birthday on the site: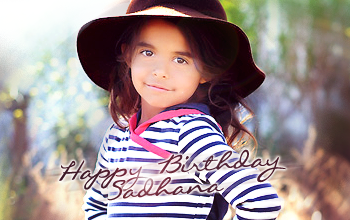 Zack, I hope you have an awesome birthday with Sadie and your family, enjoying all the fun celebrations of it being your big day! Each day you continue to share your amazing personality and smile with everyone who knows you. I hope that all your hopes and dreams come true on this special day and each day as you continue to reach for your goals. Each day brings something new and you continue to learn and love each opportunity that arises and I hope you have such a fantastic day today, Happy Birthday!!! To celebrate, the fabulous Sarah has made this awesome banner wishing you a Happy Birthday on the site:
With turning 6 comes many new changes and opportunities and also a time to say goodbye to being a year younger. Sadie and Zack both had such a great time being five and have grown so much just since January of last year! I know every time I see new photos of Sadie and Zack now, I am so amazed by how much they have grown up in such a short time, it's true, kids really do grow up quickly. You can really notice the difference when you visit the Timeline showcasing photos of Sadie over the years. The page has just been updated with Sadie's 5 years old photos, so many fun and awesome memories! I cannot wait to see what we will be adding for her next year!So much excitement and celebration today as Sadie and Zack enjoy their big special day, it is so hard to believe how fast time goes. Just three years ago Sadie Lady opened, right at the time of their 3rd birthday and there have been so many amazing moments and memories since. Happy Anniversary to Sadie Lady and a one last big huge awesome Happy Birthday to Sadie and Zack!
Posted by: Lisa | comments 0
| | |
| --- | --- |
| 27 Jan 2012 | Birthday Project |
Sadie and Zack's birthday is quickly approaching and their Birthday Project is coming along great!! Please remember that today is listed as the last day to submit any messages, graphics, and videos to wish the kids a Happy Birthday! While this is the last day, life can get a little crazy and if you are reading this on the 28th or 29th and freaking out because you wanted to submit something, please still send by clicking here and Sadie and Zack will definitely see your message/graphic/video. Thank-you to everyone who has sent something along so far, Sadie and Zack are going to love seeing the final project!
Posted by: Lisa | comments 0
| | |
| --- | --- |
| 10 Jan 2012 | ROOM SEVEN/OILILY!! |
I am beyond excited about the images I have to share today! Sadie recently shot with the amazing Gretchen Easton for the companies Room Seven & Oilily and we now have the images from the shoot! They are simply stunning, words cannot even begin to express how cute and fun this shoot is! While I am in love with the image of Sadie up close and directly looking into the camera and the one of her jumping really makes me smile, it is so hard to pick favorites because and every single photo is amazing! Sadie loved all the clothes she got to wear for the shoot, and how great does red look on her? For each photo Sadie's facial expressions radiate off the image and Gretchen captured some fantastic moments, really showing Sadie's spunky side! Being on location always makes for such a fun time, and it really shows with all of Sadie's smiles and laughs in the photos. Thank-you so much Gretchen for such an exciting day!



Sadie is already on such a roll for 2012 and the good news keeps on coming! Next week Sadie will be shooting her third campaign for Little Warrior and she is very excited to get to work with Jessie Kenney of Juneberry Photo again!!! She's already counting down the days! While we wait for this new and amazing shoot to release, make sure to check out Sadie on the Mini Social website for Little Warrior!If you haven't already done so, please make sure to check out Sadie and Zack's Birthday Project! They'll be turning six at the end of this month and what better way to celebrate than by seeing all the amazing messages, graphics and videos made by all of you! We'd like to have everything in by no later than January 27th so everything can be put together and we have already received so many wonderful submissions, thank-you so much, this is going to help make Sadie and Zack's birthday the best one ever!
Posted by: Lisa | comments 0
| | |
| --- | --- |
| 01 Jan 2012 | Babiekins Magazine & Happy New Year!! |

Welcome to 2012! Hard to believe that 2011 has come and gone and there's now a brand new year upon us filled with many new and exciting opportunities to explore. Hopefully everyone had wonderful New Year's Eve whether you were at a fun filled party or cuddled up in a blanket on the couch ringing in the New Year by watching one of the many entertaining live broadcasts on TV! The Som Family would like to wish everyone a Happy New Year and hope that you all had a fantastic Christmas last week. They have shared their stunning Christmas Card from this past year with the site for all of you wonderful fans to enjoy!What better way to kick off 2012 here at Sadie Lady than a sneak peek at Sadie's shoot for Babiekins Magazine!! In late 2011 Sadie got to take part in a very fun safari themed photoshoot with the wonderful Juneberry Photo and 3ringcircus and this week they released an amazing shot of Sadie and her friend to preview the upcoming issue! It is so cute and I absolutely LOVE the safari animal theme taking place, cannot wait to see more from this issue when it releases early this year! This I'm sure is the first of many amazing new projects for Sadie in 2012!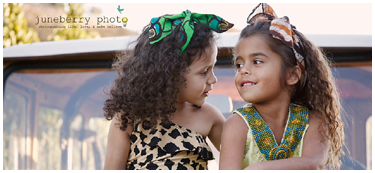 It's almost time for birthday candles, balloons and presents! That's right, Sadie and Zack's 6th birthday is quickly approaching!! The kids have the BEST fans on the planet and I know you all want to help make this year special! A birthday project has been set up where you can send in messages, fan art, and/or fan videos to be give to Sadie and Zack on their birthday! Make sure to visit Sadie and Zack's Birthday Project for all the information on how to submit! I cannot wait to see what everyone sends and know you'll all help make this birthday the best one yet!
Posted by: Lisa | comments 0
| | |
| --- | --- |
| 24 Dec 2011 | Merry Christmas!! |
This is such an exciting time of year for Sadie and Zack, getting the decorations up, doing holiday crafts, and maybe even helping to bake some delicious holiday treats! Shopping and making presents for mom, dad and Nathan is always fun, and most importantly, getting to spend the holiday with their family and friends is the best part! Tonight is the big night, Santa Claus is coming! Later there will be milk and cookies set out for him and tomorrow morning....the big surprise of seeing what Santa brought! The kids are so full of energy and its going to be hard to sleep tonight! Sadie, Zack and the Som family would like to take a moment to wish everyone a Merry Christmas!! May your holiday be one filled with joy and happiness, this is such a special time of year to be with those you love. Wishing everyone all the best in 2012, may the new year be fantastic and full of many great surprises!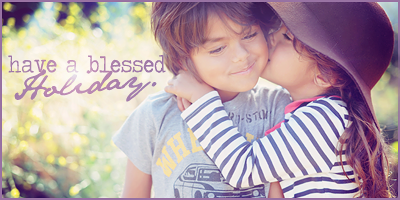 (Thanks Sarah for the banner!)
Posted by: Lisa | comments 0
Earlier this year Sadie got the wonderful opportunity to work for Saurette and shoot their fall line! It was a fantastic day outdoors and we were very lucky to be treated to a sneak peek of the campaign! Sadie loved getting to wear the company's adorable outfits and one of the best parts was getting to put on the really cool mask! While all of Saurette's clothes that Sadie got wear are really cute, I absolutely loved the purple sweater with the white skirt. Doesn't purple look amazing on Sadie! I'm very excited to say that two new images of Sadie in that outfit have surfaced and both are full shots which means that we get to see the complete outfit, yay!
Sadie looks stunning and these two photos have got to be some of my favorites from the campaign! Thank-you to Saurette for such a fabulous shoot!
Sadie loves each and every chance she gets to work with the fabulous Jessie Kenney of Juneberry Photo and Heather Rome of 3ringcircus! This week she got to see both of them for a fun filled day shooting for Babiekins Magazine! It was an exciting Safari themed shoot and we will get to see the images featured in an issue next spring! A little bit of a wait, but a fantastic project to look forward to! With Jessie and Heather doing the shoot, I know these photos are going to be amazing!
Posted by: Lisa | comments 0
| | |
| --- | --- |
| 21 Nov 2011 | Stella Cove!!! |
I have some amazing exclusive photos to share today, and after you see these, I just know your going to want to run down to the nearest beach...even if it may just be covered in a little snow where you are! Sadie shot for Stella Cove's spring 2012 line, and the final images are stunning! I am completely left speechless by the fantastic work of Gretchen Easton, combined with the fun and vibrant clothing of Stella Cove, and especially by how grown up our little Sadie looks in these pictures! Sadie Lady looks radiant and I just love seeing her smiling and having a great time on the beach while Gretchen's camera snaps away! Sadie loved the different swimsuits she got to wear, Stella Cove's clothing rocks! She also enjoyed getting to shoot with a pretend mom, and the two had loads of fun laughing together. Sadie's images from this shoot will soon be seen on the Stella Cove website, and we also have the photos here on the site for you to enjoy so head on over to the gallery to see the full album! I just know your all going to love them as much as I do!




Sadie loves each chance she gets to work with the wonderful Gretchen Easton, and recently she got to work with her for two boutique clothing brands! Sadie shot for the companies Room Seven and Oilily! I cannot wait to see these photos when they surface! Thank-you so much Gretchen for three fabulous photoshoots and to Stella Cove for another fantastic campaign! Gretchen & Sadie make quite the team together!!
Posted by: Lisa | comments 0