Welcome to Sadie Lady the Official Website for young Model & Actress Sadhana Joule Som. Here you'll find the latest news, updates & images on this talented little girl. You can view some of her work in the Gallery. If you have any question's feel free to Email the Webmaster.


NEWS & UPDATES
| | |
| --- | --- |
| 24 Oct 2014 | Dream Beneath the Desert Sun |
I have a fantastic update to share with everyone today! Sadie recently took a trip into the desert with Shannon Sewell, partner photographer Krysta Metcalf, and an amazing team of people for a photoshoot as part of the Dream Beneath the Desert Sun workshop in Palm Springs. She got to embrace her inner boho girl thanks to the fabulous styling by Heather Rome and Caitlin, and her wardrobe by Velveteen and Salvage Maria. With Shannon, Krysta, and the team, the vision for this shoot was brought to life!

Sadie really loved doing this shoot! From the wardrobe accessories to location, everything about it was exciting. Shannon captured some fabulous close ups, and I just love the photos of Sadie having fun in front of the camera and showing off her hippie style poses. The images taken as she sits on the rock resting her hand under her chin as she poses for the camera show a wonderful moment in time captured, I love how they are of the same pose, but you see Sadie's facial expressions continue to change throughout. She enjoyed getting to do some shots with her friend, and you wouldn't know it was over a hundred degrees out that day, Sadie was quite the trooper doing her thing and enjoying her photoshoot! The coloring on the pictures is gorgeous, it adds that special touch to make all of the photos and theme come together. The images can now be found in the gallery, and thank-you to Shannon, Krysta, Heather, Caitlin, and everyone who was a part of making this incredible photoshoot happen!





Sadie has some booking news, she recently shot for ShoSho Bella!
Posted by: Lisa | comments 0
| | |
| --- | --- |
| 03 Oct 2014 | Little One Magazine! |
Little One Magazine has just released their latest issue and it features Sadie's shoot in connection with the children's fashion company Em-be! She had such a fun time working on location, making friends, and the images came out fabulously! The photographer, Nate Hoffman, captured an amazing shot of Sadie mid-air as she was jumping around with all of the pom poms, and the photo of her looking down in the grey dress is another one of my favorites from the shoot. Sadie loved how they did her hair, which she sported for all three of her different outfits, and it was awesome seeing herself on cover page for the shoot's section in the magazine! With a thank-you to Little One Magazine and Nathan, I have also added some super fun additional shots from the photoshoot to the gallery. You can really see just how great a time Sadie had that day and make sure to pick up your copy of the magazine here!





Sadie has some booking news to share! She recently worked for Tea Collection!
Posted by: Lisa | comments 0
| | |
| --- | --- |
| 29 Aug 2014 | Jelly the Pug! |
What better way to kick off the long weekend than with a fun new Jelly the Pug update here at Sadie Lady! I have some fabulous new images to share with everyone from her recent shoot with the always amazing Natalie Warr for the company, and hopefully you all enjoy the images just as much as we do! This has got to be one of my favorite lines from them and it is so exciting to see Sadie modeling some of the outfits. She totally rocks all the pinks, purples, and greys, and the images have been featured all over Zulily including in a banner for their big sale last week! Sadie was so happy find out her images have been used on there alongside some of her friends, and thank-you to Natalie and the Jelly the Pug team for another fun shoot!



Posted by: Lisa | comments 0
| | |
| --- | --- |
| 22 Aug 2014 | LITTLE ONE MAGAZINE! |
Sadie had an amazing time shooting for the premiere issue of Little One Magazine earlier this year. Natalie Warr always brings such energy and excitement to each shoot Sadie does with her, and getting to go on location with friends to kick off the magazine was a lot of fun! She had her images featured on several pages in the first issue, and Natalie shared some additional ones on her Facebook page recently! They are some really fun outtakes of Sadie and all her friends posing for group shots, having fun on the skateboard and I especially love the photo of her with her friend Maddy, the girls had such a great time working together. Make sure to check out the new photos in the gallery and thank-you to Natalie and Little Ones Magazine for a fantastic photoshoot!





Sadie has a new shoot for Jelly the Pug out! She's currently featured on Zulily for the latest line, and keep checking back for a future update with all of the exciting new images.
Posted by: Lisa | comments 0
I have a fun new Garnet Hill update to share with everyone today! The company has been continuing to update their website with their back to school shoot and this has meant two more Sadie images! She can be seen with her fellow Zuri friend this time as the girls shared some laughs and enjoyed getting to work together. Both shots came out great, I love the nice moment captured between the two as Sadie leans over while they shared a good laugh, and the posed image is a fantastic photo of the girls as well. Garnet Hill loved the images Sadie and her friend shot too as one of them is also being featured as the banner for the Green Cotton section and on the homepage of the kids site! What an amazing day with the Garnet Hill team, and Sadie really hopes to get to work with everyone again in the future!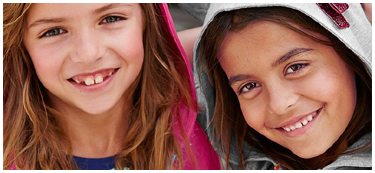 Posted by: Lisa | comments 0