Welcome to Sadie Lady the Official Website for young Model & Actress Sadhana Joule Som. Here you'll find the latest news, updates & images on this talented little girl. You can view some of her work in the Gallery. If you have any question's feel free to Email the Webmaster.


NEWS & UPDATES
I have a fun new Garnet Hill update to share with everyone today! The company has been continuing to update their website with their back to school shoot and this has meant two more Sadie images! She can be seen with her fellow Zuri friend this time as the girls shared some laughs and enjoyed getting to work together. Both shots came out great, I love the nice moment captured between the two as Sadie leans over while they shared a good laugh, and the posed image is a fantastic photo of the girls as well. Garnet Hill loved the images Sadie and her friend shot too as one of them is also being featured as the banner for the Green Cotton section and on the homepage of the kids site! What an amazing day with the Garnet Hill team, and Sadie really hopes to get to work with everyone again in the future!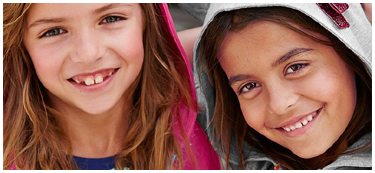 Posted by: Lisa | comments 0
Summer break may have only just begun, but it's time to scooter on in to back to school with Garnet Hill! They are already getting ready with new clothes and of course backpacks! Sadie can currently be spotted in the backpacks section of the company's website within their kids department, and what a fun shot it is. She's on her scooter riding around with a really cute pink sport bag on her back, and she loved that it has horses on it! She had so much fun shooting in Beverly Hills, the team on set were wonderful to work with, and Sadie is so happy to see her image has surfaced. Thank-you to everyone at Garnet Hill for another fantastic shoot!
Posted by: Lisa | comments 0
| | |
| --- | --- |
| 30 May 2014 | Big City Kids/Who's Little?! |
I hope everyone is ready for a fun update because Sadie's issue of Big City Kids Magazine is now available! She did a fabulous shoot with Gingersnaps Photography modeling a dress from the latest collection for one of her favorite designers Who's Little?. It was such a fun day with friends, she especially enjoyed getting to shoot some of the images outside and I just love the way that Amy used the sunshine to enhance the outdoor shots of Sadie and her friends. What's special about this shoot is that if you look closely you will notice that Sadie is missing one of her front teeth! She showed off her new smile proudly for the camera, and with a thank-you to Amy and the team at Big City Kids several fun shots from her shoot have just been added to the gallery! She just adored her dress and you can really see in the photos how great a time she was having at the shoot with the other girls, Amy always makes the day fun. Make sure to pick up your copy of Sadie's issue by clicking here!


Posted by: Lisa | comments 0
| | |
| --- | --- |
| 23 May 2014 | Natalie Warr Photography! |
What happens when Sadie has wrapped her shoot for Jelly the Pug and has some free time....why some dress up and a fun on the spot photoshoot of course! While shooting with the fabulous Natalie Warr Sadie spied some outfits and accessories in the studio and started playing around with them. Styling herself she put together some fantastic and unique looks, and Natalie loved what she was doing so much she decided to take some photos! Sadie's got a very good eye for an eight year old when it comes to putting together outfits complete with props that fit together nicely and showcase style and personality. The images are so fun and have just been added to the gallery.






In addition, I have a fun behind the scenes image of Sadie sorting through all of the accessories at the studio. Don't you just love the sparkly top hat! Sadie had such a great time getting to go through everything in Natalie's studio and was so excited to see the images Natalie captured of her modeling her creations. Thank-you Natalie for a great shoot and such an awesome day!


Posted by: Lisa | comments 0
| | |
| --- | --- |
| 20 May 2014 | La Petite Magazine! |
Great news, Sadie's shoot for La Petite Magazine is now out! Her images have been used on the blog for the magazine's website to showcase how to rock a grey tee in three different ways. Sadie got to wear a t-shirt from Kira Kids which she fell in love with, who knew grey could be so much fun to wear! She really enjoyed shooting with Roneil Chavez whose images came out fabulously, and she thought Lucia Tran did a fantastic job styling her looks for the shoot. It was a great team to work with, a fun day on set, and make sure to view the images in the gallery!
Posted by: Lisa | comments 0