Welcome to Sadie Lady the Official Website for young Model & Actress Sadhana Joule Som. Here you'll find the latest news, updates & images on this talented little girl. You can view some of her work in the Gallery. If you have any question's feel free to Email the Webmaster.


NEWS & UPDATES
| | |
| --- | --- |
| 24 Feb 2015 | New Layouts!! |
Welcome back to Sadie Lady! You may have noticed that something was going on the last couple of days when trying to access the site, and I'm happy to say that it was for a very good reason....we have new layouts! All three designs have been changed to feature Sadie's recent shoots with Alex Kruk, Shannon Sewell/Krysta Metcalf, and Amy Pogue! The layouts were done by our friend Sarah, and we know you all will love them as much as we do!

Some changes have been made while adding the new layouts, with the biggest one being that you can find links to all of Sadie's official accounts on social media in the header! Just click on there to be taken to the account, and if you aren't already following her/have her page liked, make sure to do so!

Lastly, the spotlight fan art and video have been changed, we always appreciate all of the things made for Sadie, and don't forget to share them to her page on Facebook so we can see.
Posted by: Lisa | comments 0
I have a fun update to share with all of you, Sadie's latest shoot for Garnet Hill! She always enjoys getting to work for the company, and helped them kick off their new spring line at their photoshoot. Sadie can be seen sporting a pink striped shirt, patterned pants, complete with a white hat and sneakers, and her feet also made it into a group shot for the shoes section. She loved working with friends, and enjoying drinking from the soda bottles as the photographer captured images.




In addition, behind the scenes images from Sadie's fall shoot for the company can be found in the gallery too! She had a blast working at Greystone Mansion and Park in Beverly Hills, the estate was gorgeous! Sadie and her friend rode their scooters around, and the time working just flew by. Thank-you to everyone at Garnet Hill for two awesome photoshoots!





Posted by: Lisa | comments 0
| | |
| --- | --- |
| 13 Feb 2015 | Tea Collection! |
Hide those winter coats because it's time for some spring fun with Tea Collection! Sadie shot for the company last year, and images have now been surfacing! She is a part of a very fun group shot modeling the latest designs for the company's A Celebration of India collection which has been featured throughout their website, as well as in their catalog. She was so happy to model one of outfits a part of this collection reflecting the vibrant colors and patterns of the Indian culture, and had a great time shooting with Amanda Pratt! She fell in love with the dress she was wearing, and check out those accessories, they were were amazing and really brought the whole look together for the shoot!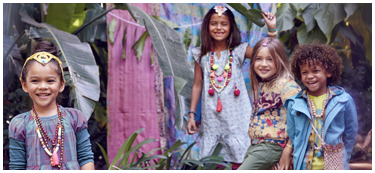 Behind the scenes, Sadie had a fantastic time working with some of her fellow Zuri friends. The location was pretty cool, a lot to see and explore, and it really helped embrace the theme of the collection. One of the best parts was getting to see the peacock walking around the set, it's not every day you get to see one so close, and that is definitely one memory that Sadie will remember for years to come!




Posted by: Lisa | comments 0
| | |
| --- | --- |
| 30 Jan 2015 | Happy Birthday!! |
It's a big day here at Sadie Lady as after much planning, counting down, and a night of Sadie and Zack being too excited to sleep....their birthday is here! They are turning nine years old today, yes NINE! Where does the time go?! Now they are up, and enjoying their special day, celebrating with friends and family, and making this a day to remember. They can't wait to enjoy the traditional birthday cake, presents, and well wishes of the day as well as everything their family does to keep the fun going throughout the day. Here at Sadie Lady some of you have also wanted to help make their day a great one and have been sending in messages, graphics, and videos and thank-you to everyone who submitted, they love seeing everything!

Sadie and Zack, fans have been busy helping to put your Birthday Project together. They are happy to get to help celebrate your 9th birthday with you, and hope that today is a fantastic one from start to finish! Get comfy at the computer, and click on the link to see some well wishes and fun graphics and videos people have helped put together for you. This is your birthday gift to you from fans, Happy Birthday!!



Sadie and Zack's 9th Birthday Project



Sadie I hope you have a wonderful day today as everyone helps to make your special day an amazing one. Friends, family, everyone loves you so much and always loves seeing you smiling and happy, especially when it's time to celebrate being another year older. Turning nine is going to be pretty awesome, lots of new things to see and do, and I hope that this year is an incredible one, full of new memories and experiences, Happy Birthday Sadie!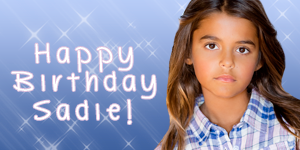 Zack, I hope your day today is awesome as everyone comes together to celebrate your birthday! Enjoy all of the traditions and exciting moments that make this special day one you look forward to every year. Turning nine is so exciting and and the fun is only just beginning as there is a whole year of opportunities and things to look forward to to make nine a really cool age! Enjoy today, and may today be full of fun and excitement, Happy Birthday Zack!







This week also marks six years since Sadie Lady first opened, very exciting! The website opened a day before Sadie and Zack's third birthday, and how great that we've all been able to share in so many of their exciting moments and accomplishments over the years.

Happy Birthday Sadie and Zack and Happy Anniversary Sadie Lady!
Posted by: Lisa | comments 0
| | |
| --- | --- |
| 23 Jan 2015 | Natalie Warr Photography! |
I have a very fun update to share with everyone today as there is a part two to Sadie and Zack's holiday photoshoot with Natalie Warr! They had a great time down at the beach for this set of images, and it made a wonderful backdrop for the photos as the kids ran in the sand, and posed for some very nice sibling shots by the rocks and water. They really enjoyed using the letter props that spelled out 'Joy', tossing the letters up in the air as they jumped. Mocha also got in for some more photos with Sadie as the two sat in the sand posing for pictures, which came out wonderfully.





Zack has some solo shots from this part of the shoot as well which can be found in his section of the gallery. He really liked taking some photos with Mocha, the two are the best of buddies, and one of his favorite parts of the whole shoot was jumping in the air along the shore as Natalie captured some action shots. Thank-you Natalie for a fantastic set of new Sadie and Zack images!





Posted by: Lisa | comments 0