Welcome to Sadie Lady the Official Website for young Model & Actress Sadhana Joule Som. Here you'll find the latest news, updates & images on this talented little girl. You can view some of her work in the Gallery. If you have any question's feel free to Email the Webmaster.


NEWS & UPDATES
| | |
| --- | --- |
| 20 May 2014 | La Petite Magazine! |
Great news, Sadie's shoot for La Petite Magazine is now out! Her images have been used on the blog for the magazine's website to showcase how to rock a grey tee in three different ways. Sadie got to wear a t-shirt from Kira Kids which she fell in love with, who knew grey could be so much fun to wear! She really enjoyed shooting with Roneil Chavez whose images came out fabulously, and she thought Lucia Tran did a fantastic job styling her looks for the shoot. It was a great team to work with, a fun day on set, and make sure to view the images in the gallery!
Posted by: Lisa | comments 0
| | |
| --- | --- |
| 16 May 2014 | Jelly the Pug! |
I hope everyone is ready for some fun with Jelly the Pug today! Sadie loves shooting for the company and got to do a new set of images a little bit ago. They appeared on Zulily along with their Facebook page, and they are such sweet shots. What made this shoot special is that not only did Sadie get to show off new dresses, but she got to have matching ones for her doll! She had so much fun playing on set, and couldn't wait to start making her dolls at home have matching outfits with their Mommy. All of the outfits she got to model were beautiful and I especially love the images of Sadie posing with the dolls, you could see just how much fun she was having and she did such a great job taking care of the doll throughout the shoot. Thank-you to everyone at Jelly the Pug for another fabulous shoot and to Natalie Warr for all the fantastic photos!



If you are on Instagram make sure you're following Sadie! Her account was set up a couple of weeks ago and you can see all kinds of fun new images, blasts from the past and more. You can follow her at @sadhanajoulesom and don't forget to follow her Twitter too @Miss_SadieLady!
Posted by: Lisa | comments 0
| | |
| --- | --- |
| 02 May 2014 | Vogue Bambini! |
I have a really fun update to share with everyone today, one that Sadie's been excitedly waiting for everyone to see, her first issue of Vogue Bambini Magazine! She shot with the amazing Drew Sackheim at the start of the year, having fun with new friends, and she had a wonderful time working on location. Sadie loved the Coachella inspired fashion and instruments she got to incorporate into the shoot, it was almost like she was attending the modern day Woodstock like festival herslef! I especially love the image of Sadie sitting on the stool and wearing her hoodie with the banjo in the background and all of the shots came out fabulously. Images of Sadie in the latest issue of Vogue Bambini along with the shoot images and a fun behind the scenes shot have just been added to the gallery, and make sure to pick up your copy of the magazine at Barnes and Nobles and bookstore chains across the globe!



Sadie has some booking news to share! She recently did shoots for Garnet Hill, La Petite Magazine, The Mod Child, and Who's Little?/Big City Kids Magazine, she's on a roll!
Posted by: Lisa | comments 0
| | |
| --- | --- |
| 04 Apr 2014 | Little One Magazine! |
Exciting news, the first issue of Little One Magazine is here! Formerly TMK Magazine, they just released their first issue under their new name and look, and Sadie is featured in an editorial called "The Oceansiders"! She was so happy to get to work with Natalie Warr as well as many of her friends as they took the LA streets by storm, letting everyone know they were here and mean business. She loved getting held up by her friends so that she'd be high enough to appear to do some Little One Magazine graffiti on the brick wall, and I just love the shots of the group walking down the back alleyway, it's like right out of a movie! Sadie has several pages in the first issue, including a full page solo shot of her jumping in the air, and with a thank-you to Natalie Warr I have also added the shoot images to the gallery!





In addition, I also have some behind the scenes images to share with everyone. Sadie had a fabulous time at her shoot, working with several friends while making some new ones too. The girls all got along so well and the shoot flew by with all of the fun they were having doing photos in several locations. Thank-you Natalie Warr and Little One Magazine for a fantastic shoot, and make sure to pick up your issue of the magazine here!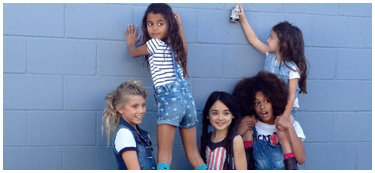 Posted by: Lisa | comments 0
| | |
| --- | --- |
| 03 Apr 2014 | es + es Contest! |
Sadie has entered a dress design in a contest for the incredible es + es! The design with the most votes wins and will actually be produced as part of their Spring 2015 line!!!!!! Please Please CLICK HERE to be brought to the company Facebook page and click "LIKE" to vote!

To have one of her designs actually made into a dress would be an amazing dream come true! She loves fashion and design & and asks everyday if she has ore likes on her design. Please SHARE THIS LINK with everyone and anyone to have them vote for Sadie's design - The most "likes" wins!

Thank you SO SO much to those that have already voted!!!!!
Posted by: Lisa | comments 0