Welcome to Sadie Lady the Official Website for young Model & Actress Sadhana Joule Som. Here you'll find the latest news, updates & images on this talented little girl. You can view some of her work in the Gallery. If you have any question's feel free to Email the Webmaster.


NEWS & UPDATES
| | |
| --- | --- |
| 15 May 2015 | MilK Magazine! |
I have a very fun update to share with everyone today, and that is Sadie's shoot for MilK Magazine called Birds of Paradise! She had an amazing time working with Elke Van de Velde and her team made up up of Tracy Madison, Hilary Folks, Heidi Nymark, and Meg Schmitt. Between all of them it was a group effort to bring together these fantastic photos for the tropical summer trends focused editorial and a very cool memory for Sadie...working with a parrot! Now how awesome is that! The birds were very well trained as Sadie and the other kids held them and posed for photos, and it even sat on her shoulder for part of the shoot!

Sadie did three other looks as a part of the editorial, each one quite different from the last. The swimwear shot came out great with her floral pattern bikini and swim cap, and she loved the suit and turban she wore for the other two looks. The images have been published on the website for MilK Magazine as well, and with a thank-you to Elke, we have the shoot images too! Make sure to head on over to the gallery to view all of the images from this incredible photoshoot!


Posted by: Lisa | comments 0
| | |
| --- | --- |
| 10 Apr 2015 | In Your Eyes & Tire of Fun!! |
There is something special about being a model for a photoshoot where a photographer is bringing her own creative idea to life through a series of photos. You get to encompass their vision, put your own take on the idea, and the result is a fantastic set of images you're proud to have been a part of. Sadie got to do just that for the always wonderful Alex Kruk who shot two editorials back to back, In Your Eyes and Tire of Fun! The first is one of the photographers absolute favorite shoots, which makes it even more exciting to be a part of, and features a close up shot of Sadie, hair blowing in her face. The photo is powerful as you connect immediately with Sadie's eyes which tell a part of the story. The second shoot Sadie got to use tires for props, standing in the center, climbing through one, and she enjoyed every minute of it. Shoot images as well as a series of outtakes can be found in the gallery, and thank-you to Alex, Christina, and Kendria for an amazing photoshoot!

Posted by: Lisa | comments 0
| | |
| --- | --- |
| 24 Feb 2015 | New Layouts!! |
Welcome back to Sadie Lady! You may have noticed that something was going on the last couple of days when trying to access the site, and I'm happy to say that it was for a very good reason....we have new layouts! All three designs have been changed to feature Sadie's recent shoots with Alex Kruk, Shannon Sewell/Krysta Metcalf, and Amy Pogue! The layouts were done by our friend Sarah, and we know you all will love them as much as we do!

Some changes have been made while adding the new layouts, with the biggest one being that you can find links to all of Sadie's official accounts on social media in the header! Just click on there to be taken to the account, and if you aren't already following her/have her page liked, make sure to do so!

Lastly, the spotlight fan art and video have been changed, we always appreciate all of the things made for Sadie, and don't forget to share them to her page on Facebook so we can see.
Posted by: Lisa | comments 0
I have a fun update to share with all of you, Sadie's latest shoot for Garnet Hill! She always enjoys getting to work for the company, and helped them kick off their new spring line at their photoshoot. Sadie can be seen sporting a pink striped shirt, patterned pants, complete with a white hat and sneakers, and her feet also made it into a group shot for the shoes section. She loved working with friends, and enjoying drinking from the soda bottles as the photographer captured images.




In addition, behind the scenes images from Sadie's fall shoot for the company can be found in the gallery too! She had a blast working at Greystone Mansion and Park in Beverly Hills, the estate was gorgeous! Sadie and her friend rode their scooters around, and the time working just flew by. Thank-you to everyone at Garnet Hill for two awesome photoshoots!





Posted by: Lisa | comments 0
| | |
| --- | --- |
| 13 Feb 2015 | Tea Collection! |
Hide those winter coats because it's time for some spring fun with Tea Collection! Sadie shot for the company last year, and images have now been surfacing! She is a part of a very fun group shot modeling the latest designs for the company's A Celebration of India collection which has been featured throughout their website, as well as in their catalog. She was so happy to model one of outfits a part of this collection reflecting the vibrant colors and patterns of the Indian culture, and had a great time shooting with Amanda Pratt! She fell in love with the dress she was wearing, and check out those accessories, they were were amazing and really brought the whole look together for the shoot!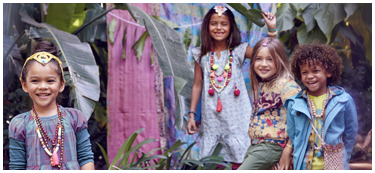 Behind the scenes, Sadie had a fantastic time working with some of her fellow Zuri friends. The location was pretty cool, a lot to see and explore, and it really helped embrace the theme of the collection. One of the best parts was getting to see the peacock walking around the set, it's not every day you get to see one so close, and that is definitely one memory that Sadie will remember for years to come!




Posted by: Lisa | comments 0