Welcome to Sadie Lady the Official Website for young Model & Actress Sadhana Joule Som. Here you'll find the latest news, updates & images on this talented little girl. You can view some of her work in the Gallery. If you have any question's feel free to Email the Webmaster.


NEWS & UPDATES
| | |
| --- | --- |
| 05 Dec 2012 | Access Hollywood Live! |
Tomorrow's the big day! Make sure to tune into Access Hollywood Live to see both Sadie and Zack in their Holiday Fashion Show! If you are in the New York or California area it will air at 11am on NBC, as well as for many parts of the country. However if you are not near those states we strongly encourage you to visit TV Guide to check your local listings. Sadie and Zack had their fitting for the show today and love the outfits they get to model, so comfy! They are very excited for the morning to come and cannot wait for all of you to see them on television, it's going to be so much fun!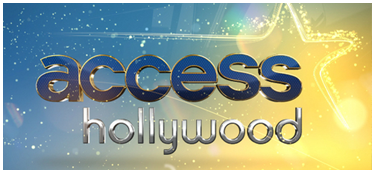 Posted by: Lisa | comments 0
Who's excited to see Sadie's film debut in The Loop? I know all of you are saying yes right now and going to love this update! The production team has just released four behind the scenes photos of Sadie on set, getting ready to film, and having a fun time playing the sand with her co-stars. She plays the role of Young Misol, a five year old Latin American girl and the younger version of the lead role Misol who is played by Lana Kirata! Written and directed by the Moises Perez and produced by Marissa Siegel & Mariana Rosales, The Loop is going to be a wonderful art/drama/avante-garde type film released in May 2013, and you can check out their website here! The storyline sounds very intriguing and I love the depth and message they are aiming to showcase:

The Loop follows a beautiful and prosperous young Latin-American woman, Misol Castillo, who lives in Los Angeles. She receives horrible news that her grandfather is dying and must venture back to a land of her culture to say a last goodbye. The grand distance between her and her grandfather launches her into a world of distress and wonder. Since her grandfather, only speaks the ancient Aztec language, Nahuatl, she cannot understand his last words.The loss of heritage drives a young girls heart to discover her true roots that she let slip away.

This is Sadie's very first film role and we are all excited to see her make her debut! Make sure to head on over to the guestbook to leave her a message, she loves hearing from you. Sadie, we are all so very proud of you and cannot wait to see you in The Loop!





Big news! Make sure to check your local listings on Thursday to see when Access Hollywood Live airs in your area. Sadie and Zack will both be featured in a fashion show segment, it's going to be lots of fun!
Posted by: Lisa | comments 0
The images from Sadie's shoot for Rayil with the wonderful Katrina Jayne are simply gorgeous, it was such a treat to get to see the photos early, and now the moment is here, Sadie's photos are officially being used by the company! Sadie can be seen several times on their website between the look books, pages for the outfits and even....the homepage! She's featured in two very sweet banners that scroll across the center of the site, as well as in an image below to lead everyone to the Cloud Collection she got to shoot. Now how awesome is that caption of "P is for Princess" in the center of two of Sadie's photos, she really loved that! Thank-you to both Katrina and Rayil for the fantastic shoot, Sadie is loving that her images are all over the website!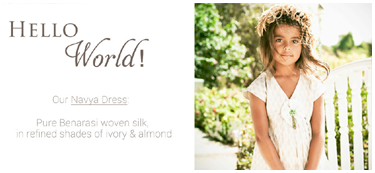 A BIG thank-you goes out to everyone who helped Sadie support Who's Little? and their One Girl One Dress Project. We are very excited to say that in the last day enough money was raised for their goal to be met and the project is in full swing! Sara and the company can now begin working on producing new dresses, and very importantly, giving dresses to little girls in need. Sadie was jumping for joy when she heard this news, she cares deeply about this and is happy to know that she and many of you have been able to help kids in need.
Posted by: Lisa | comments 0
| | |
| --- | --- |
| 24 Nov 2012 | Just One Day Left!! |
There's only about 30 hours, that's just over one day left to contribute to the Who's Little? One Girl One Dress Project! Sadie is happy for all of the support you have shown to Who's Little? and their dedication to providing little girls in need with gorgeous new dresses. Sadie has such a big heart and has made a wonderful contribution showing that you are never too little to make a difference! You can view their Kickstarter page by clicking the banner at the top of the site. Remember, every dollar helps get Sara and the company closer to their goal, and in return you will help put a smile on the faces of many little girls across the country and help them create memories to last a lifetime. There's no better gift than that, especially during the holiday season.
Posted by: Lisa | comments 0
| | |
| --- | --- |
| 15 Nov 2012 | The ONE GIRL ONE DRESS PROJECT |
There are only 10 more days left to fund the amazing Who's Little? One Girl One Dress Project along with Sadie!!! They are so close to reaching their goal, with your help we can make a difference in the lives of many children. Make sure to click the banner at the top of the site to see how you can contribute, and remember, every dollar helps!



The holidays<
Posted by: Lisa | comments 0
| | |
| --- | --- |
| 12 Nov 2012 | Steven Wetherbee Photography! |
What happens when Sadie joins the amazing Steven Wetherbee for a photoshoot? Why fabulous new photos of course! Not too long ago Sadie got to go on location for a fun shoot with Steve, posing for the camera, and even getting to bring a friend. She got to work with a beautiful dog who was so friendly, and she is proud to call him hers, that's right she got to bring her dog Mocha to the shoot with her! Steven enjoyed having her dog at the shoot too, playing at home may be Mocha's favorite thing though as Sadie and Steven think that he did not get the award for best Puppy Model, but he's still really cute! I especially love the photo of her standing in front of the fence with her dog beside her, and how sweet is the image of Sadie sitting on the rocks looking at the camera! This shoot brings out such a fun yet mature side to Sadie, it's hard to believe how fast she is growing up right before our eyes. Steven had some wonderful things to say about Sadie when releasing a few sneak peeks from the shoot on his Facebook Page including these sweet words:

"Sadie is such a free spirited child and very in touch with nature. I have seen her find joy in even the smallest flower <3"

Thank-you Steven for such a wonderful time, Sadie loves every chance she gets to shoot with you, you really capture all the joy and fun of each moment of the photoshoot and she can't wait to do another one together soon!






Posted by: Lisa | comments 0
| | |
| --- | --- |
| 05 Nov 2012 | YOU ARE NEVER TOO LITTLE TO MAKE A DIFFERENCE |
We at Sadie Lady strongly believe in supporting worthwhile causes and helping children in need!! YOU ARE NEVER TOO LITTLE TO MAKE A DIFFERENCE and our very own little Sadie wants to make a BIG difference and needs all of our HELP!!!! As many of you already know Sadie has been very blessed to have had many wonderful opportunities recently to work with the clothing company "Who's Little?". She has created memories that will last her a lifetime walking down the runway in the beautiful Who's Little? designer dresses. Now Sadie wants to give back and help owner/designer, Sara C. reach her funding goals for the "ONE GIRL ONE DRESS PROJECT" as an integral part of the Who's Little? brand launch !!! To ensure that every little girl has at least a few of these magical memories to take with her along life's journey, for every Who's Little? dress sold, Sara pledges to provide a new dress for a child in real need. While the clothes themselves will surely be welcomed, what she really hopes these girls receive is a boost to their self-esteem and a reason to hope and dream. To launch this project off, On December 1st Sara will be partnering up with Coach Art, at an event for terminally ill girls where the dresses will be given out!!!! From now until November 25th, Who's Little? is raising funds through Kickstarter to aid in the launch of the winter Holiday & Spring line of dresses!!!! The company is in high demand but funding upfront is the key!! Every donation made will help launch the Who's Little? brand & the ONE GIRL ONE DRESS PROJECT!!! 6 year old Sadie herself has begun by donating her very own earnings from her fashion runway work with Who's Little? to this cause that is so near to her heart!!!! To learn more, PLEASE take just a few minutes and click on the video below made by owner Sarah herself explaining her dream in her own words!!!



The holidays are fast approaching and what better time to lend a helping hand and put a smile on a terminally ill child's face. You can visit the Kickstarter page for Who's Little? by clicking here, or by CLICKING on the beautiful banner at the TOP of the site made by our good friend Marie! Remember, every donation no matter how big or how small helps, each contribution will help Sara and Who's Little? get closer to their goal. We encourage everyone to please help spread the word through social media, let everyone you can think of know about this wonderful project that is close to Sadie's heart & remember you are never too little to make a difference!! Sadie Thanks YOU for being a part of this wonderful cause and making a BIG difference, remember to Click on the banner above and PLEDGE!!!!!! Love & Blessings~Sadie Lady
Posted by: Lisa | comments 0